Almost one in 11 graduates are unemployed six months after leaving university, a poll reveals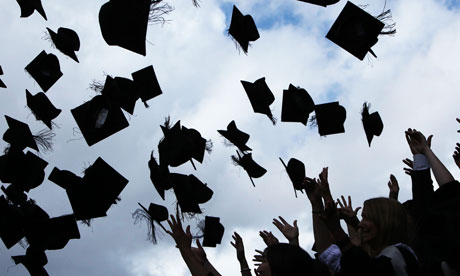 Nearly one in 11 graduates are unemployed six months after leaving university – the highest proportion for 17 years, a study reveals today.
Rising numbers are taking jobs that do not require degrees, including as waiters and checkout workers, the survey of almost 225,000 graduates shows.
The poll, by the
Higher Education Careers Services Unit
charity, covered 82% of those who completed an undergraduate degree last summer and live in the UK. The pollsters interviewed the graduates in January – six months after they left university. It comes as ministers plan to substantially increase the amount graduates pay for their degrees.
The study found 8.9% of graduates, or just over 21,000, were out of a job after six months, a one percentage point rise on the previous year.
The last time graduate unemployment was as bleak was in 1993, when the UK was coming out of a recession. Then, 10.5% of graduates were unemployed after six months. In 1992, it was a record 11.6%.
The proportion of university leavers with a graduate-level job – as defined by the government – has dropped 3.3 points to 62.4%, the charity found. The proportion working in retail and catering rose by 3.8 points to 14.4% – about one in seven.
The mean starting salary for graduates has not kept pace with inflation and is now £19,695 – an £18 rise on last year, the survey found. It is £22,228 in London and £19,965 in Scotland. Those who had studied Chinese had the highest starting salary at £24,540 a year, while fine art graduates started on the lowest wage at £14,625.
Some 59.2% of the graduates were employed, compared with 61.4% the previous year. Some 15.4% were studying or in training, up from 14.1%. A further 8% were taking postgraduate degrees, down 0.1%.
The public sector is one of "very few" areas that has continued to recruit graduates in the recession, the charity said, fuelling fears as the sector prepares to shed hundreds of thousands of roles.
Prospects for graduates with degrees in social work and healthcare-related fields increased by 0.5% and 0.2% respectively on the previous year, the pollsters found.
Graduates with degrees in IT fared worst. One in six – or 16.3% – were unemployed six months after graduation. The previous year, 13.7% were out of work after the same period.
More than one in seven media studies graduates – or 14.6% – were unemployed six months after graduation – a 2.6% rise on the previous year.
The government describes engineering degrees as "strategically important" for the economy. But 11.9% of civil engineering graduates were out of work six months after they graduated, as were 11.8% of mechanical engineering graduates. Geography and psychology graduates were least likely to be unemployed. Some 7.4% and 8.3% were out of a job respectively.
Charlie Ball, the charity's deputy research director, said he expected employment rates to rise, but added: "With the anticipated public sector job cuts, the future in the medium-term looks less clear. It depends on what the government does and how the private sector reacts. This will determine things for graduates for the next three to four years."
UCU, the lecturers' union, said an uncertain job market and higher fees could "turn talented people away from university".
Aaron Porter, the president of the NUS, said the figures showed the cost of a degree should not be transferred to students. "Graduates should be seen as a critical part of the government's missing growth strategy and a vital component to rebuild our economy," he said. "The inter-generational divide in our society is already gaping and this is now just another part to an overwhelming case as to why the government should reject Lord Browne's proposals and urgently reconsider the direction of travel."
The Browne review, published last month, recommended that universities set tuition fees, allowing the existing cap of £3,225 per year to be lifted.