'It's not just waving pom-poms,' says the inspirational founder of the Ascension Eagles, Britain's best team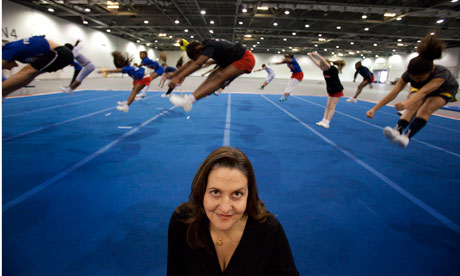 In the cavernous empty chamber of the ExCel convention centre in east London, only a very brave or very foolish person would mention the "p" word. Scores of primary and secondary school pupils are gathering for an evening practising intense tumbling, acrobatics and gymnastics routines. And they and their coaches are not happy.
Figures from the Department of Education showing that 37% of schools are now offering cheerleading in PE lessons have been greeted with scorn in the media. "Schools axe real sport in the craze for cheerleading," was one headline. The popular perception is that cheerleading is the uncompetitive preserve of blonde beauty queens rah-rahing with pom-poms. For the Ascension Eagles, a cheerleading squad of 130 children and young women – and men – aged three to 24, nothing could be further from the truth.
"Some people may have an outdated view that it's just waving pom-poms but if you open your eyes and look at modern cheerleading it's a lot more sporty than many other sports out there," says Shara Brice, founder and director of the Ascension Eagles. "The exciting thing is when it empowersyoung people to take charge of their lives, to stay fit and active and say no to unhealthy life choices."
Our very British unease with cheerleading comes from the displays seen alongside American football games in the US. Competitive cheerleading, or all-star cheerleading, is completely different. Claimed to be the fastest growing sport in the world, it is played in 82 countries, with men and women competing in teams before judges with fast-moving, complex acrobatic routines, blending sports disciplines including tumbling, gymnastics and dance. This sport demands strength, flexibility, lightening quick footwork and, most of all, dedication and teamwork.
Brice is an inspirational figure in cheerleading circles and in east London, where she has created the leading British team drawn from one of the poorest and most ethnically diverse areas in the country. More importantly, her Ascension Eagles charity sends trained coaches and volunteers into 30 schools in east London to teach cheerleading, or "cheer", as well as leadership and life skills. She has been awarded an MBE, her story is being made into a film by the production company behind Shaun of the Dead and Scott Pilgrim Vs The World, and on Monday Brice will discover if she has won the Sainsbury's Women of the Year "You Can" award .
Not that Brice likes to talk about it. She is desperate not to take the credit for the extraordinary success of the Ascension Eagles. "This is theirs. They should get the credit for it. They run it," she says, pointing at her young coaches who have gone from being Brice's first eager cheerleaders to professionals, youth leaders and PE teachers. "When I see their will, I will find a way to make it happen."
Brice was born in America and met her husband, Jonathan, while studying at Oxford. Jonathan, a vicar, was thrilled when he was offered the parish of the Church of the Ascension in Newham, east London; Brice less so. "We drove through the parish and I thought, 'Oh gosh, no one else wants to move here. This is really scary'," she says.
Shortly after they moved to east London in 1996, Jonathan set up a summer football tournament to draw young people off the street. Brice, who had launched her own cheerleading team as a 14-year-old in America, dropped flyers through local letterboxes to see if anyone was interested in learning some basic pitchside routines. Thirty girls turned up at the church hall and, helped by her sister, a former professional who was over on holiday, Brice organised a spot of cheerleading.
After the tournament, the girls wanted to do more. Not expecting much, Brice told them they could come back in September. That month, there was a knock on the vicarage door; 25 of them returned. She began lessons in the church hall. More dropped in every week. The following spring, the newly formed Ascension Eagles, the most ethnically diverse cheerleading team in the world, travelled to its first ever tournament in Bognor Regis.
They came last.
"We were just rubbish," says Angela Brown, one of the original Eagles. Brown, who went on to represent Britain at numerous tournaments, remembers their "horrible" first kit, with cheap shoes bought from a supermarket and most humiliatingly of all, their prize called "the spirit stick", a wooden spoon consolation prize for being such good sports. "But if we'd done better I'm not sure we would've got so good now because we were so hungry. Coming last is not cool."
Brown still looks like a teenager but she is now 28 and a professional coach for Legacy, the Ascension Eagles' elite adult team. Brice cites Brown's fiercely competitive drive as a major reason why the Ascension Eagles have flourished. After that first humiliation, the team vowed to improve. Determined not to be perceived as "the poor team" from impoverished east London, they doubled their subscription money to buy better kit, including Reebok Classics and matching sports bras. More importantly, they drafted in new coaches, including navy fitness instructors, to work on their routines and organised informal training sessions in parks, working on routines late into the night. "People who said they couldn't jump, all of a sudden, they could jump," says Brice.
Four Ascension Eagle teams entered the following year's competition. All won trophies, two coming first. After 14 years of success, Brice has now lost count of how many trophies Ascension Eagles teams have won but thinks it is about 400. Their teams have competed all around the world and Legacy is aiming for the very top: the best team in the world is Miami-based Top Gun. "We're chasing them," says Brown.
Conor Kenny does not look like a typical cheerleader. He is a man, for a start. A 19-year-old student, he was into free-running when a friend persuaded him to try out for Legacy. "Obviously at first I said 'no'. But the second I came along, it was completely the opposite to what I expected. It was the least gay thing you could do," he says. "I'm always trying to explain it to other people – it's mainly gymnastics and circus skills, the perfect thing if you like acrobatics."
Despite an ever-increasing demand for Ascension Eagles' coaches to visit schools, Brice lives in fear of budget cuts, particularly as half their funding comes from Newham council. As Kenny points out, cheerleading is still "an underground thing" in Britain. Brice is running classes in the ExCel centre for a month because the charity has no permanent home and its previous practice area – in a derelict gentleman's outfitters – was returned to the landlord. But Brice still never turns anyone away.
"Within Newham there is a real war of the postcodes and youth workers say it's breaking down postcode barriers like nothing else," she says. One child cried when she heard they were moving to the ExCel and Brice discovered she was terrified she would get beaten up when she arrived in the "wrong" neighbourhood in her school uniform. So coaches deliberately mix children from different postcodes together; the trust and teamwork that the lifting and throwing routines demands quickly dissolves any divisions. "Within our programme they are one family," says Brice.
Parents certainly approve. Anthony Odle sees all four of his children, from three to 13, attend classes. "It's given my eldest a lot of social skills and she meets a wider range of people than she would in school," he says. When she went to secondary school, she had the confidence of already knowing older children from cheerleading. His nine-year-old son plays football and rugby but also enjoys cheerleading. "He trains really hard and it's really good for his fitness," he says.
Brice has seen thousands of young people gain new confidence from cheerleading. Achieving in one sphere spills over into others and suddenly she finds them telling her about their achievements at school. "It's almost like a family. Shara has been like a second mum to me," says Natalie John-Baptiste, another early member of Brice's team who is now a coach and PE teacher. She sees its benefit in school, particularly when it is offered to girls who would previously skive off sport. "It's fantastic at getting the children to bring their kit and take part in PE."
Despite her reluctance to take credit for the rise of the Ascension Eagles, Brice admits that cheerleading has helped her too. While her husband has now taken a post in Essex, she still travels back to east London constantly to run her teams. "Cheerleading helped me put my roots down in England," she says. "It really made it my home."