You could make money while you study – and not just in a bar. Here are some other options.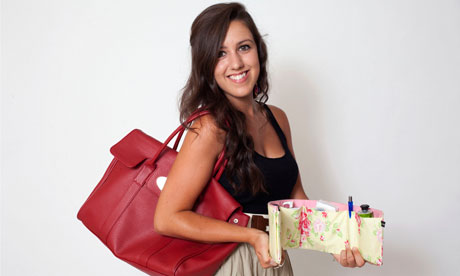 Laura-Louise Ancell designs and sells handbag organisers.
Campus brand manager
How do you do it?
Big companies – including Apple, Reckitt Benckiser (maker of Clearasil and Strepsils), banks, and law and accountancy businesses – pay a few
students
to represent their brand at universities. This usually means putting up posters, running events and talking up the firm to fellow students.
Fred Coppin, 21, a fine arts student at Oxford Brookes, is a student brand manager (SBM) for Red Bull, the energy drink firm: "The work is varied but always fun. It can involve anything from giving away cans to working with the uni's elite athletes. To promote the Red Bull Music Academy Radio, I threw a massive party at my student house, getting the best DJs in town, and inviting all the cool kids on campus. We had to have security on the door as everyone wanted to come."
How much can you make? Law firms and their ilk tend to pay a fixed fee of about £200 a year for promotion work that includes "shout outs" about recruitment opportunities at lectures. Brand managers can expect about £7 an hour, working at least 10 hours a week. "You can work when you want and it's on campus, so it fits around uni," Coppin adds.
Pitfalls? Tough competition for a job. "The most annoying thing is everyone asking if I have vodka to go with the Red Bull I give out."
Private tutor
How do you do it?
Advertise your skills at a local school or community centre, or join an agency. Consider teaching pupils for GCSEs, A-levels, school entrance exams or languages. Oliver Eccles, 23, worked as a tutor while studying French and Spanish at Oxford University. "I looked up tutoring online and found out about an agency specialising in student tutors,
Bright Young Things
(BYT). I trialled a few GCSE lessons with them over the summer and then started teaching. Tutoring is the most fun job I've had. With most of my pupils in London, I'd organise to see two or three in a day, reviewing my lesson plans at uni and while on the bus from Oxford."
How much can you make? From £10 an hour. "During the school year I can earn a couple of hundred quid a month, and during the holidays I can earn that in a week," says Eccles.
Pitfalls? Exam season – when demand is highest – may coincide with your own exams. And agencies take a cut of your earnings.
Inventor
How do you do it? Bring a brilliant idea to life and watch the money tumble in. Well, that's the theory. Suzannah Reid, 22, and two fellow business management freshers at De Montfort University, Liam Hanlon and Chris Williams, both 19, came up with Demon Swim – a competitive training aid for swimmers – for a university enterprise competition. "Having made prototypes, we're at the testing stage and are looking for a manufacturer," says Reid. "We're working long hours to set it up, but with three of us we hope the workload will continue to be manageable alongside our degrees."
How much can you make? "There is money in inventions, but the idea has to work, the research has to be thorough and the gap in the market has to be there," says Reid. "We hope to achieve a profit of £20,000 in our fifth year of trading."
Pitfalls? Long hours, for potentially little or no return. "Instead of being a typical student and going to the pub with friends, you find yourself on the phone to clients and suppliers or staring at accounts past midnight every day. When deals fall through it can be a disaster."
Web work
How do you do it?
Help people and businesses with your web-savvy ability, from Twitter lessons to website design.
Steph Burningham
, 21, who is doing a BA in graphic and communication design at Leeds University, used to have a Saturday job as a waitress but now runs her own freelance web-design business. "There's always demand, especially from small companies and start-ups, who want anything from videos to websites to adverts to logos," she says. "I've done work for an accountant, a relaxation therapist, an architect, a management group and others."
How much can you make? Depends on your level of skill and clients. Burningham makes £200-£300 a month.
Pitfalls?
Finding the work. Try
www.studentgems.com
, a student jobs site where you can list your special talents.
Sales
How do you do it?
Bring a new product to market or join up with a distributor and sell, sell, sell like a candidate on The Apprentice. Laura-Louise Ancell, 21, a multimedia journalism student at Bournemouth University, sells handbag organisers through her company,
Loulabella
. "I source British designer fabrics, cut and design each organiser, and employ a local lady to stitch my creations. I find it relatively easy to balance the company with uni work – it's good to escape the academic air of the lecture theatre for my studio."
How much can you make? After funding start-up costs with her student loan, Ancell has sold more than 200 organisers so far, at £24.50-£26.50 each*, and hopes to break into profit this year.
Pitfalls? Can take up a lot of time. "I work round the clock on orders. Some weekends I get up at 5am, erect a gazebo at a show and not pack away until 6pm."
Manual labour
How do you do it? Advertise your skills as a cleaner, painter, gardener, heavy-goods mover etc and wait for the work to flood in. Roman Dawson, 21, an accounting and finance undergraduate at Keele University, set up a gardening business: "I perform a wide range of jobs, including landscaping, minor tree surgery and building. I do it all myself, using my own equipment."
How much can you make? "I have a rate ranging from £7.50 to £12 an hour, depending on the type of job."
Pitfalls? You could be out in all weathers while your uni friends are watching Neighbours indoors. "It's tough to juggle all the work with university and staying in touch with friends and family."
Mystery shopping
How do you do it?
Sign up with a shopping agency such as
Retail Eyes
,
Tern
or
Grass Roots
. Assignments range from hotels and restaurants to gyms, shops and more. Andrea Rumbak, 24, worked as a mystery shopper while studying English literature at Durham University. "I mystery shopped for Tern, and did jobs for lots of high-street brands including Specsavers and Ann Summers. They were very detailed. I'd be sent a dossier and have to memorise five or six questions to ask, as well as a list of things that I had to look out for, such as name tags and offers."
How much can you make? Short trips can be worth less than £5, long ones up to £100, and sometimes include benefits such as gym membership or a meal.
Pitfalls? Takes up a lot of time. "After the visit, the report asked pages and pages of questions about all your observations, down to appraisals of the personal hygiene of the person who served you. It would take hours."
* Story originally mistakenly said that 100 organisers had been sold at between £13 and £15 each.
Source
:
http://goo.gl/evN8
Please share your thoughts on this. Thanks