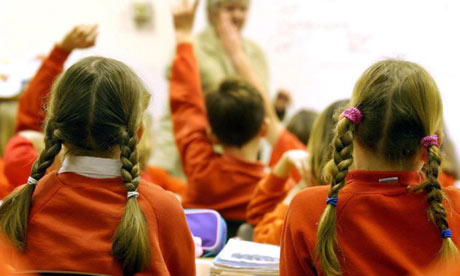 One in six pupils are falling behind in English or maths by the time they leave primary school, official figures showed today.
Tens of thousands of children are not making the expected progress in the key subjects between the ages of seven and 11, according to statistics published by the Department for education.
Fewer boys are making the expected progress in English than girls, and this gap has widened since last year.
The findings show that around 61,500 youngsters (16%) did not progress by two levels in English, while around 66,000 (17%) did not make this progress in maths.
The proportion making the expected progress in each subject has risen marginally compared to last year, the figures show.
This year, 84% made the expected progress in English, compared to 82% in 2009, and in maths this figure was 83%, compared to 81% last year.
The progress of 384,416 pupils was assessed for English and 388,574 for maths. These numbers are lower than in previous years due to a boycott of national curriculum (Sats) tests by two teaching unions. The results of Sats tests are used to establish a child's level at the end of primary school.
The statistics show more boys are falling behind than girls in English, but are just outperforming them in maths.
Nearly one in five boys (18%), did not make two levels of progress in English, compared to one in seven (14%) girls - a gap of 4%. In 2009, there was a 3% gap.
In maths, 17% of boys, and 18% of girls failed to make the expected progress, a 1% gap, compared to 2% last year.
Schools minister Nick Gibb said there was a "real concern" that one in six children were failing to make the right progress in the basics.
"Thousands of children are condemned to struggle at secondary school and beyond unless they get the fundamentals of reading, writing and maths right at an early age. We also need to ensure that those who are doing well when they are seven are stretched to their full potential."
Mr Gibb said the government was planning to put synthetic phonics "at the heart of teaching children to read" as well as introducing a reading test for six-year-olds
Read More:
http://www.guardian.co.uk/education/2010/oct/07/primary-school-pupils-behind-english-maths